Periodontal Care in Long Island City, NY
During routine dental visits, our team is examining the health and appearance of your teeth, but did you know that your dentist is also assessing the health of your gums as well? Taking great care of your gums is incredibly important for maintaining a healthy and beautiful smile. To learn more about periodontal care or schedule a visit with our team, please contact us!
Contact Us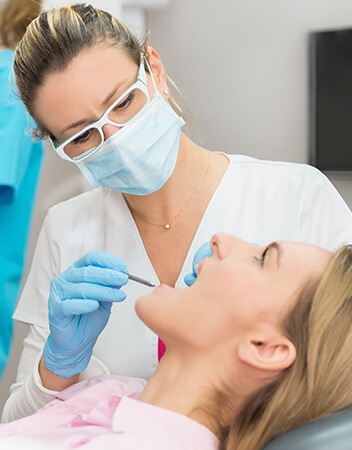 What are the signs of periodontal disease?
Gum disease always begins as gingivitis, which is the mildest form of gum disease and the only stage when it is completely reversible. Symptoms usually include redder or darker gums, puffy gums, gum sensitivity, and gum bleeding. Gingivitis can be treated with an enhanced at-home oral care routine and regular dental visits. Once it progresses into periodontal disease, routine deep cleanings that involve scaling and root planing must be performed to keep the teeth and gums as clean and healthy as possible.
What's the difference between a regular cleaning and a deep cleaning?
Routine dental cleanings focus on clearing away plaque and tartar that collects in between the teeth, along the gum line, and other areas that are difficult to clean thoroughly with a toothbrush. Deep cleanings are much more focused on the health of the patient's gums, and they involve clearing out the tartar that has collected beneath the gum line in the gum pockets. It's imperative that the gums be thoroughly cleaned, otherwise, the patient's teeth, gums, and jawbone may become damaged.
What causes periodontal disease?
Periodontal disease is most frequently caused by poor oral hygiene and inadequate dental care. Other factors that influence gum disease include hormones, certain medications, and genetics. Regardless of why your gums need some extra TLC, our team at Queensboro Plaza Dental Care is here to assist. When left untreated, periodontal disease can lead to tooth decay, tooth loss, gum recession, and jawbone deterioration. Receiving a diagnosis and following your custom treatment plan will put you on track to have the healthiest smile possible.