Full & Partial Dentures in Long Island City
Are you struggling to complete everyday tasks such as eating, talking, and smiling because of missing teeth? At Queensboro Plaza Dental Care, we proudly offer modern dentures to restore your smile and get you back to living life to the fullest. Contact our office to schedule your consultation!
Contact Us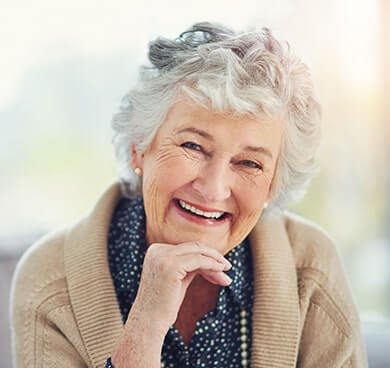 Traditional Dentures
If you are missing some or all of your teeth, we can create partial or full dentures to replace them. While you may picture uncomfortable dentures that slip and slide when you think about dentures, that's not the case! Thanks to advancements in dentistry, dentures are now more secure and comfortable than ever before. We take impressions of your gum line to ensure that your denture fits snugly onto it and we also provide an extra-strength denture adhesive. For partial dentures, they have a wire system that attaches to existing teeth for additional support.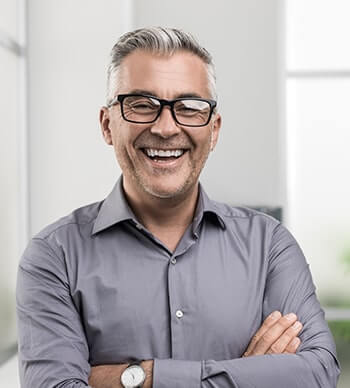 Implant-Supported Dentures
Looking for dentures that you can snap on and not think about for the rest of the day? We can place four to eight dental implants (small titanium posts) into your jawbone. The posts will fuse with your bone which creates a stable foundation to support your denture. When you wake up in the morning, all you have to do is snap your denture onto your implants and off you go! Implants are also a great option because they stimulate the jawbone and help prevent bone loss.
Dentures FAQs
How are dentures made?
First, we make a plaster model of your mouth. Then, we put the model into an articulator (a device that mimics jaw) and we place your natural-looking teeth onto the model with wax. Then, we carve the wax to mimic the look of gums. After carving the wax, we place the denture into a holding device where we pour in more plaster and melt away the wax. After the wax is gone, we inject acrylic and cure it. Next, we remove the plaster, trim, and polish your denture. After these steps are finished, your denture is complete and ready for the fitting process!
Are dentures expensive?
The cost of dentures depends on a variety of factors, including whether or not you choose traditional or implant-supported dentures. Your oral health and your jawbone density are also things that affect the price. At your exam and consultation, we can provide you with a cost breakdown of your denture(s) and go over our flexible financial options. We do everything we can to help you fit a healthy, complete smile into your budget!
What's it like getting dentures?
A real game changer! Dentures give back a full set of teeth so that you can do everything from eating to talking with ease. If you have missing teeth, then you know firsthand how difficult it can be working around them. Dentures give you freedom to laugh, smile, and flourish!