Custom Nightguards in Long Island City, NY
Teeth grinding, also known as bruxism, typically happens during sleep and can be caused by many sources. When left unsolved, teeth grinding can cause many dental problems as each night passes. If you have symptoms of teeth grinding, Dr. Nguyen offers customized nightguards to protect your teeth. To schedule your nightguard consultation, please contact our office!
Contact Us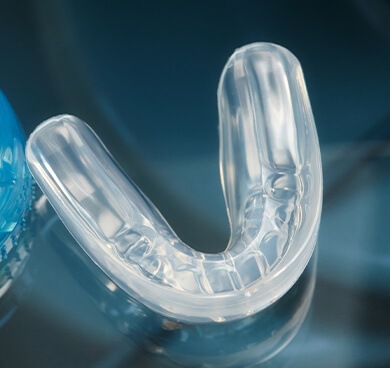 What is a nightguard?
Similar to an athletic mouthguard, a nightguard is a dental appliance that fits in the mouth to create a barrier between the top and bottom teeth. This barrier protects teeth by ensuring they don't come into contact with each other. Nightguards are meant to be worn at night as part of protecting your teeth and helping you get a good night's sleep. A nightguard also decreases jaw pain and prevents headaches!
Will a nightguard fit comfortably?
If you are suffering from jaw pain, headaches, or notice worn teeth, we encourage you to schedule an appointment for a nightguard. At your initial appointment, Dr. Nguyen will discuss your symptoms and determine whether or not you will benefit from a nightguard. If you are a candidate, impressions of your teeth will be taken to create your custom nightguard. When your nightguard is ready, we'll schedule a visit for you to come back into our office to make sure the nightguard fits comfortably and that any questions you may have about your new custom nightguard are answered.
Can a nightguard treat bruxism?
Unconscious teeth grinding is commonly known as bruxism. Bruxism treatment can be complete with a variety of tools to help protect teeth, decrease jaw pain, and prevent headaches. While a nightguard may not treat the cause of teeth grinding instantly, a nightguard can help prevent further damage to your teeth as you undergo bruxism treatment or TMJ treatment. If you use a nightguard for bruxism, we encourage you to bring it in with you to every appointment so we can frequently check its condition.