Family Dentist in
Long Island City, NY
Our Long Island City dental team is committed to serving our beloved community with exceptional, transparent dental care. We understand that every patient has unique dental needs and preferences, so we always create custom dental plans that serve everyone on an individual level. When you choose Queensboro Plaza Dental Care to be your primary dental care, you can rest assured that your family is in good hands!

Your Experienced Dental Team
A native New Yorker, Dr. Nguyen studied biological psychology at Brooklyn College. In 2008, Dr. Nguyen received his Doctorate of Dental Surgery from Stony Brook University. He is committed to staying informed about the latest in dental technology to enhance his patients' overall experience. Dr. Khran completed her undergraduate studies at Florida International University, graduating with high honors. She went on to earn a Doctorate in Dental Medicine from the University of Pennsylvania and completed a postgraduate residency at Jacobi Medical Center in the Bronx. They look forward to working with you and your family!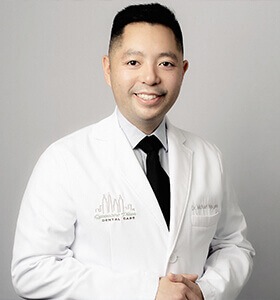 Meet Long Island City Dentist Dr. Michael Nguyen
Dr. Michael Nguyen strives to exceed your expectations about visiting the dentist by providing modern care that is personalized, comfortable, and convenient.
A native New Yorker, Dr. Nguyen attended Stuyvesant High School and studied biological psychology at Brooklyn College. In 2008, Dr. Nguyen received his Doctor of Dental Surgery (DDS) degree from Stony Brook University. Immediately after graduating from dental school, Dr. Nguyen proudly served as a Dental Officer in the United States Navy, earning the rank of Lieutenant Commander. He was stationed in historic Norfolk, VA, in scenic Oak Harbor, WA, and on the open seas aboard the aircraft carrier USS ABRAHAM LINCOLN (CVN72).
Upon returning home from military service, Dr. Nguyen pursued advanced training in aesthetic dentistry, dental implants, and root canal therapy at New York University, completing over 450 hours of continuing education in three years. He earned his Fellowship in the International Congress of Oral Implantologists (FICOI) in 2017.
Dr. Nguyen is committed to staying up-to-date with the latest in dental technology in order to enhance his patients' overall experience. He enjoys all aspects of dentistry but finds the most reward in building long-term relationships with his patients.
Dr. Nguyen loves exploring New York City with his wife Fate, his large extended family, and his friends. He also loves to play guitar and sing karaoke.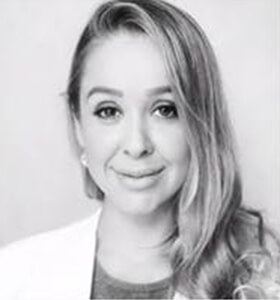 Meet Dr. Manuela Krahn, Our Associate General and Cosmetic Dentist
Dr. Krahn was born and raised in Germany. After moving to the United States, she completed her undergraduate studies at Florida International University, where she graduated with high honors. She went on to earn a Doctor of Dental Medicine degree (DMD) from the prestigious University of Pennsylvania. Upon graduating, she completed her postgraduate residency at Jacobi Medical Center in the Bronx. Since finishing her training, Dr. Krahn has been practicing in New York City, the city she calls home.
Dr. Khran is experienced in performing all aspects of comprehensive dentistry including cosmetic dentistry (ceramic veneers and crowns), restorative treatment, implant dentistry and emergency dental care (root canal treatments and extractions). As a member of the American Academy of Facial Esthetics (AAFE) and the American Academy of Cosmetic Dentistry (AACD), Dr. Khran believes disease prevention is the key to long term oral health. She practices conservative dentistry, which means you will never hear her recommend invasive procedures that do not truly benefit the patient.
Focusing on preventing dental issues before they occur combined with conservative dentistry means that patients can expect their treatments to be generally more efficient and effective. Dr. Krahn believes that one of the key factors for providing high-quality care is working with patients on an individual basis and listening to their specific wants and needs. Creating trust with patients right away is what allows Dr. Krahn and the rest of our team to establish open and honest communication with each patient, which leads to positive experiences and exceptional dental care.
Dr. Krahn is fluent in German and Spanish and her hobbies include Citibiking, cooking, running in Central Park, and exploring new restaurants in the city.
"It is my passion to create beautiful smiles and help patients keep them for life."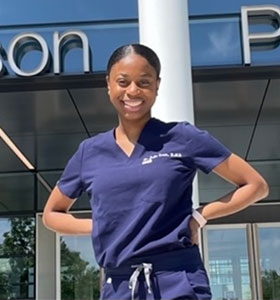 Meet Long Island City Dentist Dr. Jodie Smith
Dr. Jodie Smith is a New York native who began her dental journey as undergraduate at Cornell University. She participated in a service trip to Guatemala. During this trip, she volunteered at a local elementary school where taught students about dental health. Her work in Guatemala allowed her to be a part of something bigger than herself and fueled her interests in dentistry.
She graduated from Case Western Reserve University School of Dental Medicine. During her time in dental school, she fully immersed herself in activities that would paint the full portrait as to what dentistry entails and further her experiences in serving the community. She volunteered in the greater Cleveland area, providing free dental care. She taught elementary and pre-dental students about proper oral health and demonstrated clinical techniques she has acquired. She constructed a school newsletter with creative dentistry-based content. In an effort to continue to advocate for global health, she raised donations to be sent to a dental clinic in Jamaica. Additionally, she promoted public health. Her thesis focused on investigating the effects of socioeconomic status on dental health professional shortage area ranking. In doing so, her research provided the dental health community with another factor that affects New Yorkers' oral health and shows the importance of having dental health professionals readily available.
She continued her education by completing a general practice residency at NYC HHC: Bellevue Hospital. Dr. Smith is a member of the Psi Omega Dental Fraternity, the American Dental Association, the Ohio Dental Association, and the Chi Alpha Epsilon Honor Society.
Dr. Smith understands that there is a connection that binds patient to their dentists. General dentists are the first stop when a patient is in need. Their expertise devises the plan on how to treat and when to treat. Dr. Smith recognizes that the amount of trust the patient has for her is remarkable and she is dedicated to two jobs: making your dental experience euphoric and making your smile a little brighter.
Dr. Smith enjoys playing tennis and traveling.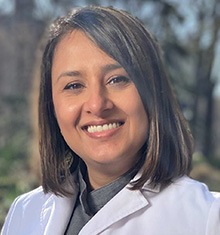 Meet Long Island City Dentist Dr. Arti Jagirdar
Dr. Arti Jagirdar is guided by compassion, ethics, and a commitment to clinical excellence. She believes that as dentists we have a responsibility to treat the whole patient and speak to the connection between what we can diagnose as dentists and overall health.
Dr. Jagirdar received her undergraduate education from Emory University and completed dental school at the Medical College of Georgia. She has been practicing in New York City since 2011, traveling extensively to participate in advanced continuing education to offer her patients the best possible care. Her expertise lies in comprehensive treatment, including implants, veneers, Invisalign, and preventive modalities.
When she is not in the office Dr. Jagirdar enjoys spending time with her husband and two young children cooking meals together or having an impromptu dance party. In her free time, Dr. Jagirdar trains in pilates, surfs, and spends time in the pottery studio.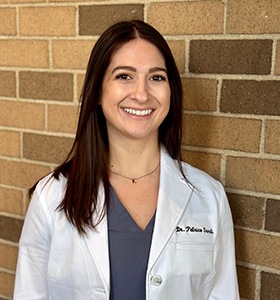 Meet Long Island City Dentist Dr. Patrice Surdi
Dr. Patrice Surdi was born and raised in Washington state where she completed her undergraduate studies at the University of Washington in Seattle. Dr. Surdi then moved to Utah where she completed her Doctor of Dental Medicine at Roseman University College of Dental Medicine and was awarded for clinical excellence.  Continuing her studies at Roseman, she completed a year-long advanced training program that focused on advanced aspects of general dentistry. Though her formal education is complete, Dr. Surdi believes in life-long learning and dedicates time outside of the office taking courses to advance her clinical knowledge with the goal of providing patients the best care possible.
It was Dr. Surdi's experience with transforming her once crooked smile as a child that inspired her to become a dentist; where she has the ability to create healthy, confident smiles for her patients. She believes in the importance of strong patient-provider relationships based on trust and communication and will take the time to discuss your treatment options while putting you at ease. She believes in treating patients comprehensively and conservatively. 
In her free time, Dr. Surdi enjoys exploring new restaurants and coffee shops, concerts, Broadway shows, and traveling.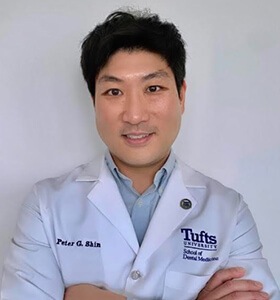 Meet Long Island City Dentist Dr. Peter Shin
Dr. Peter Shin was raised in Raleigh, North Carolina where he attended North Carolina State University and earned a Bachelor of Science degree in biological sciences graduating Summa Cum Laude. Following his undergraduate studies, Dr. Shin moved to Boston to attend the prestigious Tufts University School of Dental Medicine where he was awarded the Doctor of Dental Medicine Degree, DMD.
Upon graduation, Dr. Shin moved to NYC in 2010 where he completed his general practice residency at Weill-Cornell New York Presbyterian Hospital. In addition, Dr. Shin was able to gain valuable experience doing rotations as an oral pathology resident at Memorial Sloan-Kettering Cancer Center.
Dr. Shin's relentless commitment to providing excellent dental healthcare and maintaining personal attention in getting to know his patients is the highest standard that he strives for every single day.
In his free time, Dr. Shin enjoys running around the city and parks. Being a huge foodie, Dr. Shin loves to explore different restaurants with his wife, Rachel. He also enjoys playing the guitar and loves playing with his sweet cat, Koko.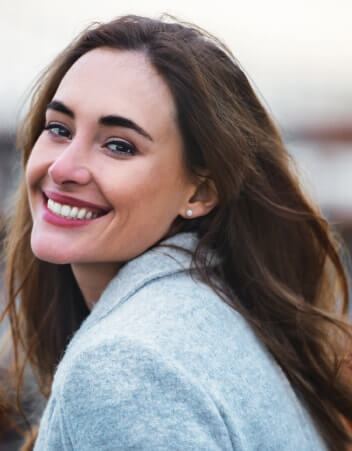 Services to Smile About
Queensboro Plaza Dental Care is proud to offer a variety of preventive, restorative, and cosmetic dental services, including:
One-on-One Exams & Cleanings
Periodontal (Gum) Care
Sealants & Fluoride Treatments
Nightguards & Athletic Mouthguards
Full & Partial Dentures
Start-to-Finish Dental Implants
Gentle Root Canal Therapy
Teeth Extractions, Including Wisdom Teeth
Invisalign® Clear Orthodontics
Porcelain Veneers
Professional Teeth Whitening
Affordable Dental Care in Long Island City
Our office provides several methods that patients can use to pay for their dental care. We are an insurance-friendly practice and accept many popular insurance plans, including Aetna, Cigna, Humana, Guardian, and Delta Dental. We also accept payment plans through CareCredit® and allow patients to make online payments through our online portal. For uninsured patients, we recommend utilizing our in-house dental savers plan, which you can learn more about by contacting us or viewing our financial page.