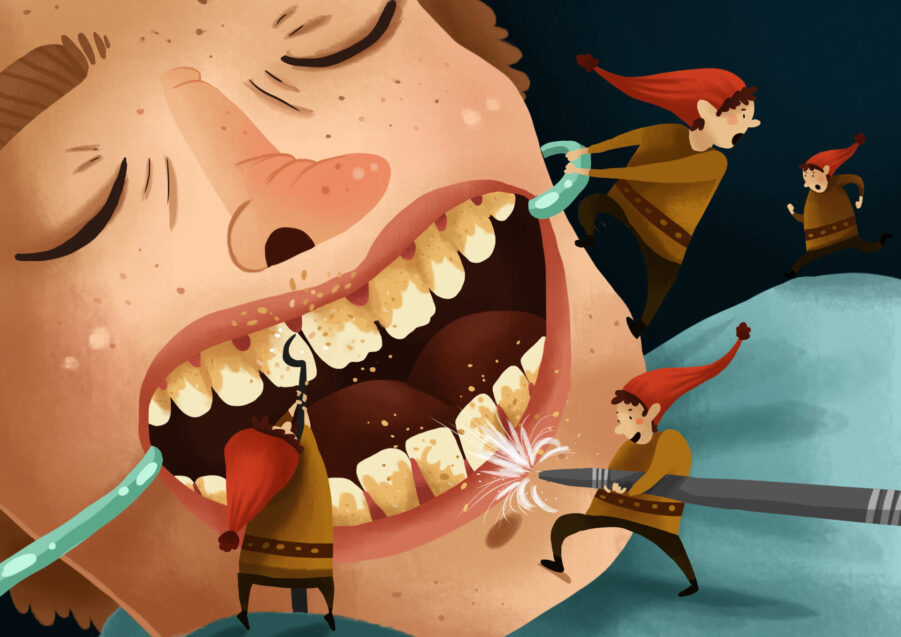 Dental plaque is a common oral health issue that develops quickly and quietly. Due to this, it's essential to recognize the symptoms of plaque to prevent more serious problems like cavities and gum disease. In this blog, we'll explore the telltale signs of plaque and how to address them effectively.
What is Dental Plaque?
Dental plaque is a soft, sticky biofilm of bacteria that forms on the teeth. It develops when bacteria in the mouth interact with sugars and starches from food, producing acids that can harm tooth enamel and gums.
Symptoms of Plaque Biofilm
Dental plaque can build anywhere above or below your gum line. It is most often associated with the following symptoms:
1. Fuzzy or Slimy Teeth

One of the earliest symptoms of plaque is a fuzzy or slimy feeling on your teeth, especially when you run your tongue over them. This sensation is caused by the accumulation of bacteria and their byproducts on the tooth's surface.

2. Bad Breath (Halitosis)

Plaque biofilm can manifest as persistent bad breath, or halitosis. The bacteria in plaque release foul-smelling gases as they break down food particles, leading to unpleasant breath.

3. Tooth Sensitivity

If you experience increased sensitivity to hot, cold, sweet, or acidic foods and drinks, it may be due to dental plaque. Plaque can cause gum recession and erode tooth enamel, exposing the sensitive dentin underneath.

4. Red or Swollen Gums

Plaque can also harm your gums. Redness, swelling, and tenderness in the gum tissue may indicate gingivitis, an early stage of gum disease caused by plaque buildup.

5. Tartar Buildup

Prompt removal of plaque bacteria is essential to prevent it from hardening into tartar (also known as calculus). Professional dental cleaning is required to eliminate tartar, as it cannot be removed through regular brushing and flossing.
Prevent and Manage Dental Plaque in Long Island City, NY
The best way to manage plaque is through a consistent oral hygiene routine. This includes brushing, flossing, and attending regular dental checkups. At Queensboro Plaza Dental Care, our dentist in Long Island City can help you prevent dental plaque with our comprehensive services and treat plaque buildup you may have. To learn more, get in touch with our office!
Image from Authority Dental under CC 2.0