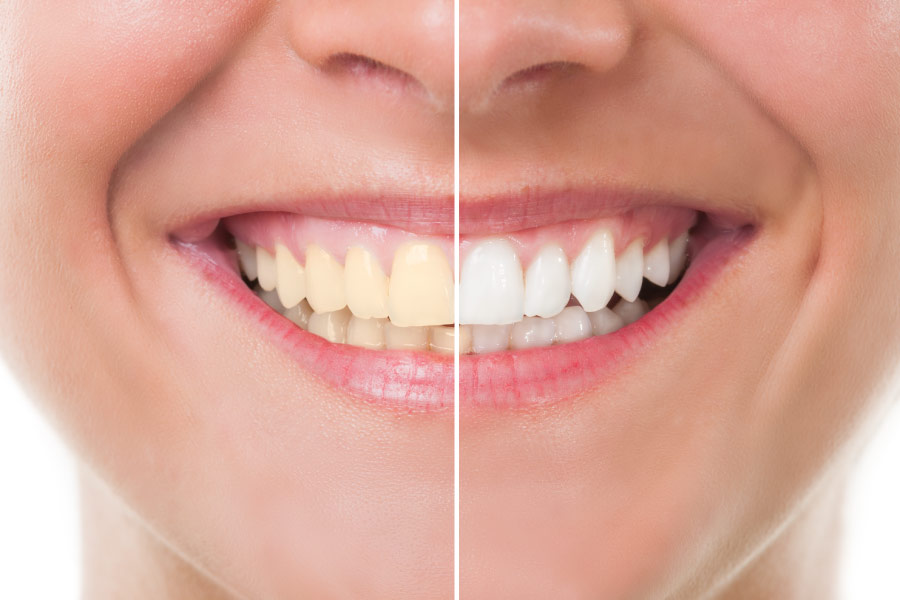 You know what they say. Your smile is your best accessory. But if your teeth are getting a little yellow, it's time to do something about that! In today's post, we are talking all about professional teeth whitening.
Why Professional Teeth Whitening?
Professional teeth whitening from a dentist is much more reliable and effective than treatments available over the counter from a drugstore or over the internet. This is also one of those dental treatments where the results are immediate and noticeable. Our in-office whitening treatment can make your teeth up to eight times whiter! However, if you want to whiten your teeth at home, we offer professional take home whitening kits which are also very effective. There's no better time to brighten up your smile than before the start of the holiday season with holiday gatherings and photo opportunities!
Can Professional Teeth Whitening Cause Sensitivity?
It's really not uncommon for professional teeth whitening to cause tooth sensitivity, especially in patients who already deal with sensitivity. The sensitivity can last anywhere from a few minutes, to hours or even days, all depending on the patient.
How Can I Lessen Sensitivity?
There are some things you can do to lessen the sensitivity associated with teeth whitening. If you avoid stain causing foods and beverages and take excellent care of your teeth, you can increase the time between whitening sessions. This will give you time to recover after the treatment. You should also consider using a sensitivity toothpaste. These toothpastes work with your nerves to help block pain signals. Other helpful things to do include drinking through a straw and staying away from especially cold, hot, or acidic foods. Finally, if you're dealing with sensitivity, bring it up with your dentist at your next preventive exam. It's something we can help you work through.
Cosmetic Dentistry in Long Island City
Looking for another way to boost your smile's appearance? In addition to professional teeth whitening, we also offer Invisalign® and porcelain veneers. With Invisalign, you can achieve a straighter smile discreetly, without the hassle of brackets and wire. Veneers can address pretty much any dental issue, including discoloration, chipped or broken teeth, or misshapen teeth. Veneers can really transform the entire smile!
Improve Your Smile at Queensboro Plaza Dental Care
Here at Queensboro Plaza Dental Care in Long Island City, NY, we prioritize the health and beauty of all of our patients' smiles! To book a cosmetic consultation, or simply schedule your next cleaning and exam, call our office today!