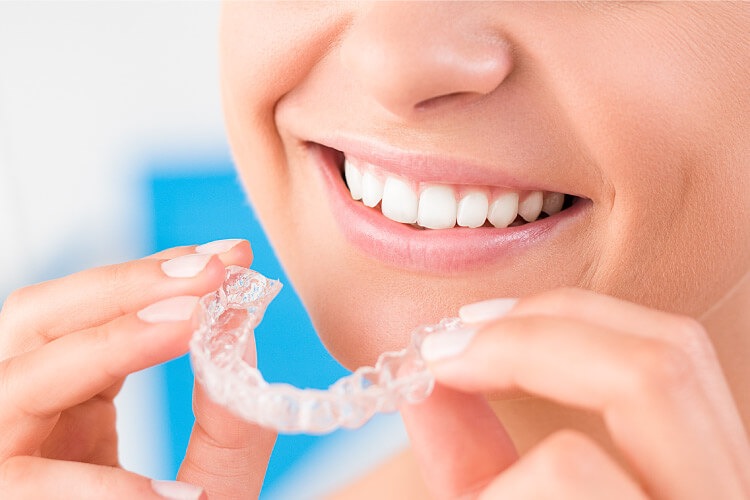 For many years, metal braces were the only option if you wanted straighter teeth. The brackets and wires could be awkward and uncomfortable. Many people felt embarrassed by how their smiles looked during the time they wore braces. Now there's clear aligner therapy, such as Invisalign®. What is it and what are the benefits over traditional braces? Read on to learn about Invisalign at Queensboro Plaza Dental Care in Long Island City, NY!
How Does Invisalign Work?
Invisalign can correct mild to moderate alignment issues. After your consultation, if Dr. Nguyen decides that Invisalign is the right choice for your smile goals, we'll take impressions of your teeth. Your aligners will be custom-created to fit securely over your teeth. They will be made of clear, smooth plastic.
You'll see the best results from wearing the trays for at least 20-22 hours every day. And every two weeks, you'll switch them out for a new set. Average treatment time is 12-18 months, but you'll notice your teeth will get straighter with each new set. Cost depends on the severity of your case and how long the straightening will take.
While traditional braces involve bonding brackets and wires to your teeth, you remove Invisalign trays when you eat, drink anything other than water, brush, and floss. This may make mealtimes more enjoyable and oral hygiene less burdensome than with braces. To keep your aligners hygienic, you do need to follow a good cleaning routine.
Schedule Your Invisalign Consultation Today!
You don't need to settle for a smile you aren't happy with because you don't want to wear metal braces. Invisalign is a great option for many people, especially if you want a more subtle way to straighten your teeth. If you have more questions about the Invisalign process, please contact us! We'd be thrilled to set you up with an Invisalign consultation at our Long Island City office.