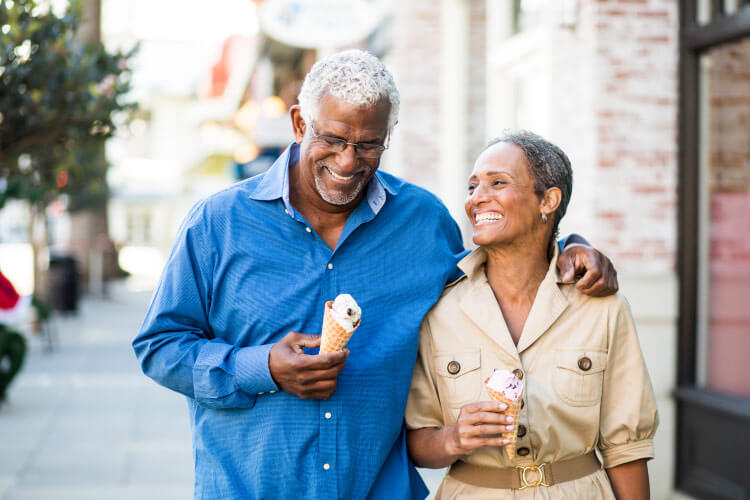 When you think of dentures, do you picture a clunky set of false teeth falling out of Grandma's mouth? That may have been a common occurrence many years ago, but thanks to advancements in dental technology, modern dentures are more secure, realistic, and comfortable than ever before! In fact, there are several types of dentures available. Read on to learn why full dentures, partial dentures, and implant-supported dentures might be a great fit to restore your smile!
Traditional Dentures

A full set of dentures is an effective and affordable solution for patients missing most of or all their teeth. After taking impressions of your mouth and deciding together the shade and shape of your new teeth, we'll get to work having custom arches of artificial teeth on a gum-like base created for you. Once your smile is complete, there's no need to worry about it sliding around in your mouth. We'll show you how to use an extra-strength dental adhesive to ensure a snug and comfortable fit on your gums.

Partial Dentures

Dentures aren't only for patients missing most of their teeth; partial dentures are a natural-looking way to replace a small section of your smile. This denture utilizes a wire system that attaches to neighboring teeth for extra support.

Implant-Supported Dentures

In addition to traditional full and partial dentures, we also offer implant-supported dentures. These are dentures held in place by dental implants. Snapping the denture into several implants gives your false teeth a very sturdy base while allowing the dentures to still be removable. Not only do implant-supported dentures feel incredibly secure, they are a healthy choice for your mouth. Dental implants will help prevent bone loss in your jaw that would typically occur in areas where there are no remaining tooth roots.
Dentures in Long Island City, NY
If tooth loss is getting you down, it's time to fix that. With our help, you'll have a new set of teeth that will let you eat, speak, smile, and live to the fullest in nearly no time! Contact us today to get started with a dentures consultation.