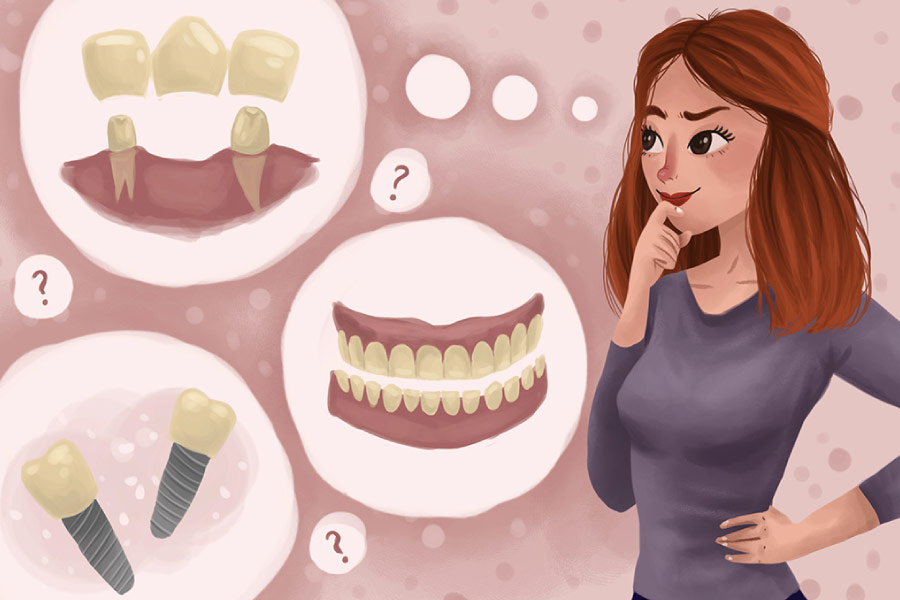 When you're missing a tooth, you'll want to look into getting a tooth replacement. It's great for aesthetic reasons, but a tooth replacement is also necessary to avoid problems with eating and speaking. Missing teeth can also affect the way your other teeth line up. Two of the primary choices for dental restoration are dental implants and dentures. You may wonder, "Which is right for me?" While the answer varies depending on the person's situation, Dr. Nguyen is always happy to discuss your choices. This blog post will help you learn about both procedures.
Pros & Cons of Dental Implants
Let's discuss the pros first. One of the most significant advantages of dental implants is that they are permanently inserted into your jaw so they help maintain bone density. Dental implants act and feel just like natural teeth. Many people rarely notice their implants. Dental implants can last for many years, if not a lifetime, with proper care. Tooth restorations on top of dental implants are easy to clean since you can treat them like the rest of your teeth. Brush and floss properly to ensure that the implants stay in excellent condition.
One reason why dental implants might not be the right choice for you is that it requires surgery. A titanium post is put in your jaw, and you'll spend weeks recovering. The process is worth it for many patients since dental implants boost their confidence. Because the treatment is more involved, dental implants are also usually more expensive than other options.
Pros & Cons of Dentures
Full or partial dentures are a great option if you are missing multiple teeth or if you have many unhealthy teeth. Custom-made dentures can restore full use of your mouth for eating, talking, and smiling. Dentures are removable, and there are different ways to secure them firmly to your jaw. You could either use a special adhesive or use metal clasps to snap them onto other teeth. There are many types of dentures available, including full dentures, partial dentures, and dentures supported by dental implants.
One thing that takes some getting used to with dentures is that they require a different cleaning process. You'll want to brush them daily and not use abrasive products. It's also necessary to soak your dentures overnight in a denture cleaning solution. Some people have a little difficulty getting used to eating and speaking with dentures, although this eases with time.
Implant-Supported Dentures
For some patients there's no need to decide between implants and dentures! Our Long Island City team offers implant-supported dentures. This is a great option for individuals who are missing enough teeth to warrant dentures but also want the stability and bone stabilization created by implants. This type of denture snaps on and off the implants for cleaning so there's no need for denture adhesive.
Restorative Dentistry at Queensboro Plaza Dental Care
If you're missing a tooth or know that you will be getting a tooth extraction, you'll want a restoration to ensure that you have a full and healthy smile. Queensboro Plaza Dental Care offers dental implants, full and partial dentures and implant-supported dentures. There are many great options, and we're happy to discuss your situation and determine which choice will best suit your needs. Please schedule an appointment with us. We look forward to seeing you.